Before the Cuban revolution had a distinctive and delicious cuisine based on Spanish cuisine, but with strong African influences from plantations existing slaves, a little Italian style of the twentieth century, the first Chinese immigrants and even some traits of workers brought in to build the railroads in the nineteenth century.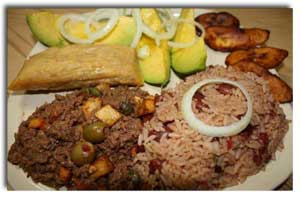 Is haute cuisine and peasant food that are used often in the old Cuba.
The dishes were developed from native crops and products introduced from Spain, such as corn, tomatoes, cassava, pumpkin and all indigenous peoples of the Americas and Cubans.
They added mango, sugar cane, rice, beans, coffee, coconut, banana and citrus brought by the Spaniards.
Along with chicken, pork and fish which have become the main ingredients of Cuban cuisine.
Some dishes were also based on the Arawak Indian cuisine using corn, was the first to find Columbus in Cuba, the Indian word is corn.
Arawak stews cooked cassava and vegetables to what Spaniards added pork and beef.
The Arawak also mostly made with grilled fish and his word, barbecue, have entered our language. Cuban cuisine is also called Creole, because much of it has been developed in the field of people of Spanish origin but born in Cuba.
HOWEVER
Cuban food since the revolution has entered a decline.
Despite the rich farmland, food is scarce due to the inefficiency of large state farms, the fact that small farmers pay high taxes on private sales and transportation issues, Added to which the Cuban government sells much of his best meal abroad and tourist hotels in cuc.