All items and services you receive in Cuba must pay the price in convertible Cuban pesos (CUC) only,
(including transportation and the departure tax from Cuba).
The value of Cuban Convertible Peso (CUC) is on par with the US dollar

THE BEST IS BRINGING EUROS TO CUBA

The Cuban peso (CUP) is only used to pay tropical fruits, vegetables in "Agros".
A "agro" is a free market for fruits, vegetables and meat, where you can get these very fresh produce and finish times to harvest, Its cost is in Cuban pesos and can visit if you want to try a well fresh tropical fruit and taste its exquisite sweetness.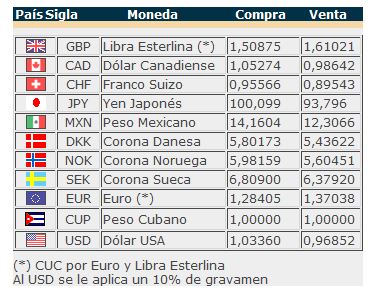 Cuba abroad pay at all in CUC, convertible pesos. CUC give for 24 Cuban pesos.
Credit cards are accepted in Cuba VISA, MASTERCARD if they are VISA y MASTERCARD not issued by US banks. Change some money to CUC at the airport, for the first things.
Can you change your money or get your card in countless CADECAs (exchange houses),
banks and hotels throughout Cuba, upon arrival in Cuba has an airport open 24 hours CADECAs;
In Cuba they are changed only the currencies of the table shown below.
On leaving the country you have to change your money to euros again.
PTo change US dollars in CUC there is a surcharge of 10%,
while trade in Canadian dollars, euros, UK pounds and Swiss Francs not incur a fee.
METROPOLITAN BANK EXCHANGE RATE CONVERTIBLE CURRENCY FREELY (MLC) vs Cuban Convertible Pesos (CUC)


To check the daily exchange rate, see table at the end of the page. : http://www.bc.gov.cu/espanol/tipo_cambio.asp