Guided tour with OLD CAR IN HAVANA: it allows you to explore HAVANA CITY.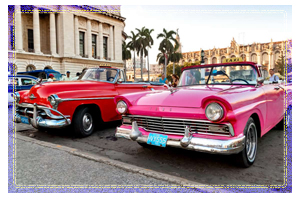 The best way to learn about Havana in depth is to take a guided tour with an old machine, it feels like you have stepped back in time.

The tour lasts 6 hours divided in two days and consists of:

Specifically this tour is made partly on foot (the old part) and partly in an old machine:

1 - Havana Club Rum Museum
2 - Plaza Vieja (Old Town Square), about 200 meters away Ron Museum.
Places to visit in the old part:
Brewery

Visit the Dark Camera, the famous telescope in the city.

Mercaderes Street: it is famous for its countless bars, restaurants including chocolate's house.

San Francisco de Asis

Parade ground (Plaza de Armas)

Palacio de los Capitanes Generales

Cathedral Piazza Della

Bodeguita del Medio – it became famous thanks to Heminguey.

Floridita - Local often frequented by the poet.

Paseo del Prado (about 200 meters long). Capitol, Grand Theatre, Hotel Telegrafo and Inglaterra (Telegraph and England Hotel)
End of day 1
Places to visit on the second day (Made entirely by car):
El Vedado, famous for "The Ramp"

Plaza de la Revolución (Revolution Square)

Around the waterfront boulevard (7 km)

El Morro
To take advantage of this tour:
Enter your details in the form below.