HAVANA BUS TOUR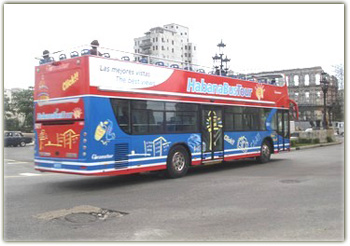 At a cost of 5 CUC (about 3.50 euros) you can go up and down as many times as you like in these tourist buses named Habana Bus Tour.

Buses that cross the city are two floors, but those who follow the coast, they have only one.

Thanks to these buses you can easily arrive to the East side beaches, go for a swim in the beautiful clear waters and you come back at night going across the city.
Habana BusTour is the ideal transport for those wishing to have a panoramic view of Havana, Cuba's main tourist destination and at the mean time you can take photographs to the monuments, theaters, plazas, etc.
The trip will cover three routes initially, two of which converge in the historic center, the Plaza de la Revolucion and the other in Central Park (in front of the Capitol), the favorite place of Havana during the last decades of the nineteenth century and the first half of the twentieth century.

The trip will come from the most popular health resorts in Havana: Santa Maria del Mar, east side and Marina Hemingway, west side.
Routes and stops of the
HAVANA
BUS TOUR

T1. Alameda de Paula - Plaza de la Revolución (Revolution Square) (broken home)
Distance: 23 km - round trip.
Stops: Castillo de la Real Fuerza
Napoleonic Museum and the University of Havana - Habana Libre Hotel,Casa de las Americas and the Ministry of Foreign Affairs, Paseo del Prado and San Lazaro – National Capitol and the Ministry of Science, Technology and Environment.
Floridita Restaurant – Cabaña Bar - La Marina building - Alameda de Paula.
T2. Marina Hemingway - Revolution Square (secondary route)
Distance: 40 km round trip.
Stops: Restaurant : La Ferminia
- Boating Mall
- Restaurant La Cecilia - Miramar Business Center - National Aquarium
- Model of Havana
- Don Cangrejo Restaurant
- Cira Garcia International Clinic
- Colon Cemetery - Revolution Square.
In the statement they make the same stops.
T3. Central Park - Santa Maria del Mar Beach (secondary route)
Distance: 65 km round trip.
Stops: From the tunnel exit to Playa del Este - Naval Hospital - Villa Panamericana - Alamar - Villa Bacuranao- Taramar, opposite the Marina Tarara - Villa Megano –

Hotel Tropicoco - Hotel Blau Arenal, former Itabo.
In the statement they make the same stops.
Havana Bus Tour times and prices:
Time: 09:00 / 21:00
Price: 5 CUC
(Valid for one day, it includes transportation from / to any road Habana BusTour, and the ticket price is the same for foreigners and Cubans)