Tour on Horseback in Viñales Valley
In this page you can book a ride on a horse through Viñales Valley.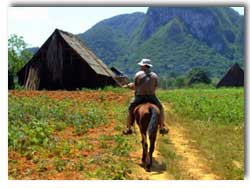 If you have planned to visit this place we strongly recommend you to do this tour, you will not regret.

This route will take place with an official guide who is licensed to carry out this activity.
On the way you will see the best views of Cuban snuff plantations. Sown and harvested strictly in order to produce cigarettes, considered, as it is known, among the best in the world.

You have also the opportunity to admire the smallest mountains in all Cuba named:" hummocks ", which is only found in this area surrounded by lush greenery.
This horseback ride is available cause these beautiful views are not accessible by road making this route a unique experience.
The tour lasts 4 basic hours but it can be extended to suit the place; on this tour you will also see a cave on horseback ride called Las Golondrinas and its underground lake where you can swim in its cool waters.

Es también una parada planificada para relajarse en los agricultores locales donde se puede beber el mejor zumo natural de esta zona.
It is also a planned stop to relax on local farmers where you can drink the best natural juice of this area.
The cost of this ride, which lasts four hours, is 20 CUC per person.
We recommend booking this tour on horseback before reaching the site in order to avoid waste of time and have an official guide who knows this valley.
To take advantage of this tour:
1 - You must have already booked accommodation in Viñales.
Enter your details in the form below.