Recommended Tour: Mojito Tour - 9 days and 8 nights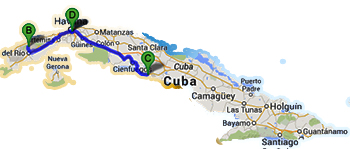 • Havana: 2 nights
• Viñales: 2 nights
• Trinidad: 2 nights
• Havana: 2 nights
During the stay on the island
• Havana: 2 nights: What to see
Old Havana: Cathedral Square, Plaza de Armas, Old Town Square, the Capitol and Bishop, Factory of Tobacco Partagas, Museum of the Revolution.
Viñales: 2 nights: What can you see?
This city can not miss on any itinerary, because it is a magical place. You can see tobacco plantations, also you can take a horseback riding trip through the valley. It is a beautiful and very relaxing thing. Near to Viñales there are two islands, Cayo Levisa (Levisa Key) and Cayo Jutias(Jutias Key), the first one is a tourist key and the second unspoiled place, one day you can go to one of these two islands and swim in its beautiful waters.
Trinidad: 2 nights: What can you see?
You have to visit the Sierra del Escambray (can be visited on foot or horseback), the Plaza Mayor, the Church of the Popa, the Museum of Colonial Art, Playa Ancon, this city has been classified as UNESCO World Heritage. Also you can visit Playa Ancon, a beach overlooking the Caribbean sea, where you can take a catamaran trip to Cayo Blanco and a ride with the steam train across the sugar cane plantation.

Place: Topes de Collantes waterfalls.
• Havana: 2 nights: Visit the modern city
Museums and modern city, Revolution Square, Vedado, Colon cemetery, Visit to the Hemingway House, the residential area of ​​Miramar, La Marina Hemingway, Playa Santa Maria (the famous beach of Havana)

Did you like this tour?
Do you want a house in each of these cities?
You have to fill out the form, and we will answer depending on the availability of each home according to your request: Go to the booking request form housing: Tour Mojito.
Come back to the tour list