Visa or Tourist Card it is required for all foreigners who want to visit Cuba as tourists.
Visa is personal. There is no more than a document containing all the tourist information, including passport number, also for minors this document it is necessary.
The visa is obtained from travel agencies or in the authorized airlines.
What are the requirements to get the Tourist Card?
• Valid passport, with a validity for at least 6 months.
• Travel ticket (round trip).
• The address where you will stay in Cuba (hotel or private home).
What time is needed to obtain the Tourist Card?
This card is a document that after you have requested and pay it, it is delivered to you instantly (in the day)
What is the validity of the Tourist Visa-card?
The tourist card allows the holder to stay in Cuba from 30 to 90 days, depending on the departure country, starting from the date of entrance into the country, and it is valid for one entrance to Cuba.
Children, regardless of age, also require a tourist card, even if they are registered in the passport of their parents.
Extension of stay in Cuba with Tourist Visa-card.
You can stay in Cuba until 30 days with a single visa, but if you intend to stay longer, you must obtain a Visa extension for 30 days more.
To get it you must be submitted at the Immigration Offices (DIE) of the municipality where you will reside, otherwise in the National DIE and submit:
• Passport.
• Tourist Visa-card.
• Photocopy of the lease of the private house where you are staying.
• Flight ticket with new date.

In the picture you can see the Visa and what you have to write: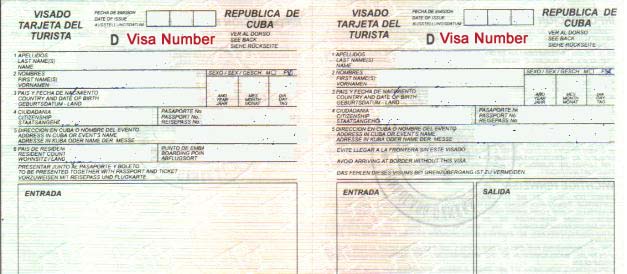 -Surnames
-Name
-Birthdate
-Number Passport
-Citizenship
- Keep a tourist Visa till your departure. When you go along the streets and cities of Cuba, just do it with a photocopy of your passport, for your departure it is essential to show the Visa with your passport and the travel ticket.
What are the accommodation options for tourists?
Tourists can stay at:
• Hotels.
• Private households (Only dwellings authorized under Decree-Law 171/97).
- If your interest it is staying at a first-degree relative home (parents, children, brothers ...) you should apply for a Family Visa in the consulate in Cuba, Family Visa must be requested 60 days before your trip for its authorization.
If you want to stay at a friend's house you must travel with a tourist card and request a change to Family Visa, in the first 7 days upon your arrival to Cuba.

To get the Family Card you must be presented at the Immigration offices with your friend, provided of the document of the house ownership.