Distance in kilometers from Havana to Cuba's
leading
tourist destinations: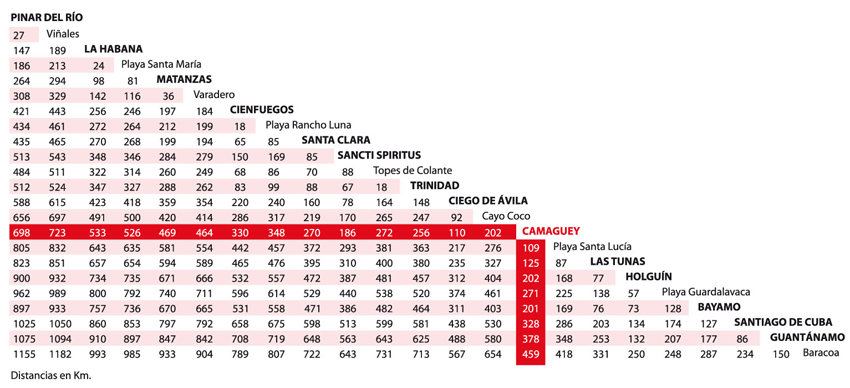 represents the means of transport used by
the Cubans.
Unfortunately, lack of fuel and the lack of resources, sheds and consequences, which have many people in long lines en waiting for this precious transport, in order to go from one side to anothercity, either for work or management we want to do.
For two agencies conectarciudades or flame provinciasexisten
VIAZUL and ASTRO bus.
For those traveling on the bus VIAZUL we suggest you bring something to the cold because the air conditioning is very strong.

The cost of the ticket is higher than VIAZUL ASTRO and paid in CUCs, because they have more modern buses
While Cubans travel by ASTRO .and the cost is affordable but in local currency.
The bus in Havana are distinguished by VIAZUL and ASTRO, see the page VIAZUL

Train - Cuba's railway network covers most of the island,it would be one way trip where you can enjoy the scenery of Cuba and its lush vegetation.
The main line that connects Havana to Santiago de Cuba.serves to connect the capitals of provinces that have along that stretch and is very reliable trip.
Havana-Pinar del Rio line is one of the slowest in the country.
To purchase the ticket you must present your passport and must be present
at the station at least one hour before departure.

is the best way to get around the islandmainly on the roads ;and highways of Cuba, but traffic outside the provincial capitals it is practically nil compared to standard traffic from other cities.
Moreover, with the rental car you can visit all the places and resorts that public service does not come.
You need to pay attention to traffic lights or traffic lightswhich are located mostly above the street as well as at level crossings marked by a large but no bar X.
Among the many obstacles on roads are cyclists with reckless behavior to speak and pedestrians along the road and the edge it waiting for the ;opportunity to cross to the other side.
On motorways you will find vendors who meet all kinds of products including (cheese, guava bars, fruits and many more).
It is not advisable to drive at night because of the lack of street lighting along the streets and avenues where bicycles become potential danger.

Taxi

there are a variety shape and size. there are different types.
There is a government agency taxi with the name Cubataxi which has a fleet of modern taxis that cost is cuc, serving tourism and a small part with older serving thepopulation cars and the cost is in Cuban pesos
Cuba also has private taxis are taxi driver to give an improved relative to other taxis negotiate price and you can even travel between provinces,private taxi drivers can pay for their services in Cuban pesos or CUC.We also have collective taxis and the cost is 10 national pesos currency fixed lines and is leaving and taking passengers throughout the journeybut for tourists who want to use this service that is more varato you can pay in cuc that the cost is 50 centsThere are also state long distance taxis, which is only found in tourist centers and especially in Havana.

Biki taxi, taxi
y coco taxi

bicycle taxis or bike taxi is a three-wheeled bicycle with space for two passengers, in the city There are many bike taxi, the cost is similar to taxis for tourists.
In Havana, Varadero and Santiago offers the coco taxi, a kind of motorcycle cover a yellow ballIt gives you the feeling of not travel very safe, but the trip is enjoyed.
Cuban aviation, domestic flights are an alternative more interprovincial transport in Cuba, but the quality and resources earmarked for this service is not good, most domestic flights are made with very old turboprop aircraft of Russian nationality is older aircraft .

Ferry

the Isle of Youth is connected to the coast of Havana by , ferry, boat or catamaran and its duration is 6 and 2 hours of travel.
around the island of youth also it exists many keys including the most important for its tourist destination and is called (Key Largo) and can only be reached by plane.

Bicicletas y ciclomotores

Motorcycles and Cuba is a very common means of transport in the streets of the cities of Cuba, also bicycles flood the streets with a Chinese predominate model.

Auto stop

Auto stop - for Cubans Auto stop a practice that that is done throughout the countrymuch needed to move from one place to another without the need to wait for the bus serviceservice due to the scarcity of resources the government can not maintain and exercise the stop orderthe government has created a trained staff to stop government cars passing empty and fill them with the staff waiting for a busthe government has created a trained staff to stop government cars passing empty and fill them with the staff waiting for a busthis explains this explains the presence of so many people along the edge the streetsand avenues or under overpasses or (bridges)from the main roads and highways of the island.