The most beautiful beach.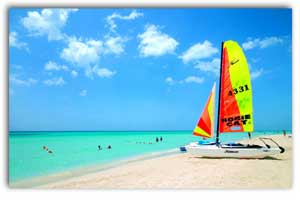 Varadero beach: some people call it the most beautiful in the world, it has long been the pride of Cuba, and a heaven for the rich and famous.

Today, it has a wide range of hotels and resorts in this wide beach of fine white sand affordable holiday are offered to meet any tourist interested in enjoying them. Varadero is part of a peninsula that extends far into the calm waters of the Atlantic.

Its 21 kilometers stretch of fine white sand, it is just an ideal holiday place for sun lovers, it is located on a narrow peninsula and it is constantly cooled by tropical breezes.

But this white sand beach against a backdrop of turquoise water and amazing blue sky, it is not the only attraction of the province of Matanzas.
The nearby towns of Cardenas and Matanzas (the provincial capital) are known for their art, history and culture.
Southwest of Varadero, on the Caribbean coast of the province, it is the Zapata Peninsula, famous for its ecotourism, its large farm crocodiles only throughout Latin America, in addition to taste a plate of a fearsome reptile: the crocodile.
• Varadero Beach
• Parque Cayo Piedra (Key Stone Park)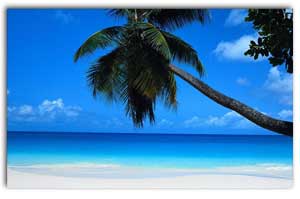 This park it is located to the northeast side and it has several shipwrecks inhabited by colorful tropical fish and crustaceans.
• Varadero Golf Club

It is a magnificent field of 18-holes for championships on the peninsula, characterized by a British complex "links" tradition.

• Plaza Centro America
It is a very well equipped international convention center, it includes shopping centers, restaurants and entertainment centers.

. • Josone Park
Near the beach it has a typical tropical vegetation in their gardens and forests and lakes. Several old houses have become restaurants with delicious meals.

•Ambrosio Cave
An archaeological place used at first as a ceremonial site by the original inhabitants of the area and later by runaway slaves, it has preserved pictographs.

• Punta Francés (French Tip)
With 600 years of age , there are cactus as tall as a tree that grows at the end of the Hicacos peninsula.

• Cardenas
It is noted by three unusual monuments: replica of a bicycle, a horse-drawn carriage and a cast concrete crabs representing the abundant crustaceans in the area.

• City of Matanzas

Canímar, forest on the outskirts of Matanzas and the best view it can be seen from the river. At the mouth of the river there is a small colonial castle (El Morrillo) where there is a mausoleum with the remains of two revolutionaries.
The castle also has an archaeological museum with ecological screens.
• Vigia Square (Plaza de la Vigía), site of the original city, it has the Provincial Museum called Junco Palace, the Sausto Theater from the19th century and an exhibition of ancient fire-fighting at the military headquarters.

• Le Triolet: French pharmacy, built in 1882, is being stocked with older drugs, utensils and medicine bottles are made of porcelain, all preserved under glass in the original store shelves finished with Cuban wood.

Bellamar Cave: in the outskirts of Matanzas, it is one of the largest and most beautiful underground formations in the Caribbean.
Two kilometers of underground passages are covered in stalagmites, stalactites and calcite crystals peculiar.