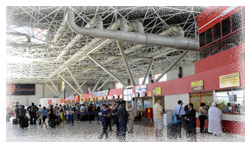 From the moment the plane lands and opens the door, you will feel very happy because it has come to Cuba and begin to enjoy the Caribbean air that characterizes
Airport jose marti
Talk along with the other passengers or let yourself be guided by officials, up to a corridor that will take you where there are stairs, why have you come down and you will find a lounge where immigration officials if you're crafty and a view of the top of the staircase window you will realize that immigration is more empty and run to catch up.
The immigration officer looked at it very seriously fixed and with great respect, but not fixed watch him freak out and look at the camera to take a picture, then place the stamp on the visa and will be given documents and a smile will say "Welcome to Cuba Lord "
After this and go into Cuba, a door opens and goes to the baggage hall, before this there is a control, where review it you do not forget to put all metal objects, sunglasses, belts, coins money in a container, after passing through the X-ray and metal detector.

Collect your deposited and go to the luggage room belongings.
During this trip you will find some people, their flight and other flights, including officials and officers, who will be proposing tourist trips, taxis, rental house, buying snuff, restaurants etc.
All in order to earn a commission no matter what, you should follow your way and if you have requested a taxi will be waiting with a sign with your name.

Before heading out the door, a customs officer will review last your luggage and if they consider that weighs more than 30 kg you must pay the excess luggage at a cost of 10 CUC per kilogram, the payment is made in the CADECAs or exchange house in cuc which is the currency that you will use throughout the national territory, we recommend that you change your money in small bills because leaving must pay the taxi and spend the first night


Do not be fooled by anyone at the airport, remember that you do not have to pay anything if your luggage does not exceed 30 kg and not have to pay anything to stay in a private house, only the owner of the house.